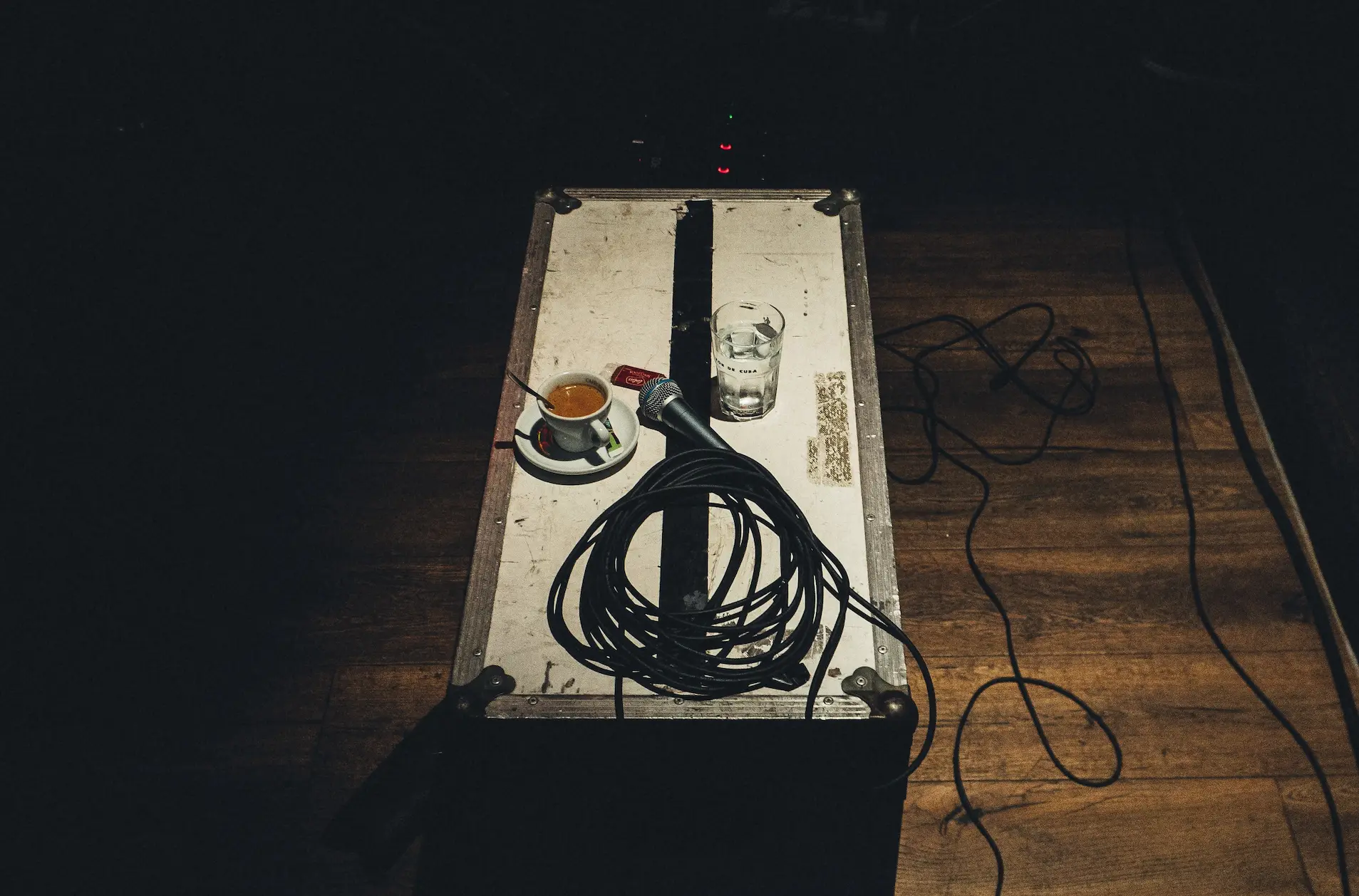 Equipment zum Mieten oder Kaufen
Wir stellen eine breite Palette an Equipment für Dein Event zur Verfügung. Kauf- und Mietpreise auf Anfrage.
Jetzt kontaktieren
Bühnenpodeste
Bühnentreppenelement 2m Breit 20cm/40cm
Bühnentreppen Handlauf passend für 5teilige Treppe
Bühnentreppenelement 100cm hoch, 1m breit
Bühnentreppenelement 20cm hoch, 1m breit
Bühnentreppenelement 40cm hoch, 1m breit
Bühnentreppenelement 60cm hoch, 1m breit
Bühnentreppenelement 80cm hoch, 1m breit
Podestfuss 40cm
Podestfuß 40cm Podesthöhe
Podestfuss Flexy 60-100cm
Podestfuß rund für 100cm Podesthöhe
Podestklammer (Metallausführung)
Podestklammer (Metallausführung)
Showgear Mammoth Bühne 1 x 1 m, ohne Füße
Showgear Mammoth Bühne 2 x 1 m, ohne Füße
Showgear Mammoth Dex Ohne Beine
Showgear Mammoth Stairs
Displays
LG NanoCell 4K TV NANO76 75"
Sharp PN-R 903, LC-Display 90
DJ-Hardware/Controller
DJM 2000 NX2
Pioneer CDJ 900 Single Player
Pioneer CDJ-2000 NXS
Pioneer DJM 900 NXS II
Pioneer DJM-2000 NEXUS
Portabler DJ Tisch 148x93x51 LxHxB
Portabler DJ Tisch 160x93x51 LxHxB
Technics SL1210 MK5 Plattenspieler mit Ortofon
Drum
Bd with Remo P3 Coated, Front with hole, Muffling
Clearsonic A5-5 Drum Shield
Drum Carpet 2x3m
Drum Key
Drum Set Yamaha
Drum Throne / Hocker rundfuß
E-DRUM 2box drumit five mk2 Set
Istanbul Cymbals
MEINL CHIMES Single 33 BARS
Paiste Signature Full Crash 17"
Paiste Signature Full Crash 18"
Paiste Signature Full Crash 19"
Paiste Signature Full Ride 20"
Paiste Signature Heavy China 18"
Paiste Signature Medium HiHats 14"
Paiste Signature Reflector Splash 10"
Remo Set
Schlagzeug Set
Snare with Remo Emperor Coated
Sonor Delite 10"x8" Racktom
Sonor Delite 12"x9" Racktom
Sonor Delite 14"x6" Snare
Sonor Delite 16"x16" Floortom
Sonor Delite 22"x17,5" Bassdrum
Sonor Delite Floortom Legs (3x)
Sonor Double Tom Arm Holder
Sonor Drum Set, S-class 5 Teilig
Sonor Tom Arm
Tama Boom Cymbal Stand HC73BW
Tama Boom Cymbal Stand HC83BW
Tama Drum Throne 3 Legs Round Saddle
Tama Drum Throne 3 Legs Round Saddle
Tama Floortom Legs (3x)
Tama Hard Ware Set
Tama HC22W Straight Cymbal stand
Tama HH 75 W Roadoro Hi-Hat Stand
Tama HiHat Stand Iron Cobra HH605 3Legs
Tama Single Kick Pedal Iron Cobra
Tama Snare Stand Roadpro hs800wn
Tama Snare Stand Roadpro hs800wn
Tama Starclassic Performer B/B 12"x7" Racktom
Tama Starclassic Performer B/B 16"x14" Flootom
Tama Starclassic Performer B/B 22"x20" Bassdrum
Tama Tom/Cymbal Combi Stand HTC77W
the t.akustik DS4-4 Drum Shield
Toms with Remo Emperor Clear
Toms with Remo Pinstripe Clear
Yamaha Extras Drum
Yamaha HiHat Stand 3Legs HS850
Yamaha Kick Pedal FP9500 ChainDrive
Endstufen
d&b audio D12 Digitalendstufe (EP5)
d&b audio D20 Digitalendstufe (NL4)
d&b audio D80 Digitalendstufe (NL4)
L-ACOUSTICS LA-RAK, Touring Rack
L-Acoustics LA8
PDW500MP3 500W/100V 6Z/cntr BT
Funktechnik
Sennheiser A1031
Sennheiser AC 3 Combiner
Sennheiser ASA 1 Antennensplitter
Guitar
Marshal JCM 900 Guitar Amp
Ampeg SVT 3Pro
Ampeg SVT-410HE - 500W
Bass Combo Hartke/ Mark Bass
Boss TU-3 Chromatic Tuner
Brunetti Maranello Guitar Kombo
Fender Blues Deluxe Reissue
Fender Hot Rod Deluxe V30 inkl. Footswitch
Fender Hot Rod DeVille 410
Fender Jazz Bass Mexico Deluxe Series, 5 Strings
Fender Jazz Bass USA, 4 Strings, Metallic Blue
Fender Stratocaster USA lake placid blue
Guitar Combo Brunetti or VOX AC 30
Ibanez Prestige Perl.Dunkel Braun
Markbass CMD 102P
Marshal 1960 Guitar acoustic system ,cabinet
Messa Boogie 4FB Slant
Messa Boogie Dual Rectifiert
SWR 4004 Bass guitar acoustic system ,cabinet 4
SWR 4004, Bass guitar amplifier , 400W
Takamine EAN16C, electro acoustic guitar
In Ear Monitoring Drahtlos
Sennheiser ew 300 IEM G3
Sennheiser SR 2050 Doppelsender, B-Band, 626-698
Shure SE535 EARPHONE,RED,W/-UNI+RMCE-BT1
Kabel - Adapter
2xCinch auf 2 x Klinke Male
Adapterkabel 2x Ch. auf 2x XLR
AdapterKabel 3,5 Kl auf 2x 6,3Kl
AdapterKabel 3,5 Kl auf 2x XLR
Adapterkabel 6,3 Kl. auf XLR
Kabel - Antenne
Sennheiser GZL RG 58 - 0.5m
Sennheiser GZL RG 8x - 5m BNC / Antennen Kabel
Kabel - Bühnenmulticore
6ch XLR m-XLRw Subcore 3m
8-fach-Multicore 15m
Multicore 32-8 50m
Kabel - DMX
25m DMX Kabel 3Pol
DMX 5P TR 50 Kabel auf Tromel
DMX Kabel 3P 10m
DMX Kabel 3P 1,5m
DMX Kabel 3P 3m
DMX Kabel 3P 5m
DMX Kabel 5P 1,5m
DMX Kabel 5P 10m
DMX Kabel 5P 3m
DMX Kabel 5P 5m
DMX Kabel Set
Verkabelung DMX n.B.
Kabel - Hybrid
Kabel Power Signal 10 m
Kabel Power Signal 6 m
Kabel - Lautsprecher
Kudo Do Kabel 0,5m
Kudo System Kabel 25m
Lautsprecher Kabel EP 5 15m
Lautsprecher Kabel EP5 10m
Lautsprecher Kabel EP 5 20m
Lautsprecher Kabel EP 5 5m
Lautsprecher Kabel EP5 2,5m
Lautsprecher Kabel EP5 0,75m
Lautsprecherkabel Adapter EP5 male auf NL4
Lautsprecherkabel Adapter NL4 auf EP5 female
Speakon Kupplung
Speakon Lautsprecherkabel 10m 4-Pol
Speakon Lautsprecherkabel 5m 4-Pol 4x4qmm
Verkabelung Set
Kabel - Mikrofon
XLR Kabel 3m
XLR-Kabel 10m Schwarz
XLR-Kabel 1m Schwarz
XLR-Kabel 6m Schwarz
XLR-XLR 15m
XLR-XLR 20m
Kabel - Strom 230V
Kabelverlängerungsrolle 25m 3x1.5mm
Kabelverlängerungsrolle 50m 3x1.5mm
Netzkabel Schuko
P-Con Netzkabel 1-4, 3x2,5mm²
PowerCon Netzkabel 3x1,5 10m H07RN-F
PowerCon Netzkabel 3x1,5 5m H07RN-F
PowerCon Verbindungskabel 3x2,5 1m
Stromkabel Schuko to IEC cable 1,5
Stromkabel Schuko to IEC cable 3m
Verkabelung Strom n.B.
Verlängerung 3x1,5 5m 3-fach
Verlängerungskabel Schukokabel 50m/3G2,5
Verlängerungskabel/Schukokabel 2,5m/3G1,5
Verlängerungskabel/Schukokabel 20m/3G1,5
Kabel Digital
CAT 5E auf Trommel 75m
CAT5 Netzwerkkabel1,5m
STP-Leitung CAT7,Hirose RJ45, 3,0m
STP-Leitung CAT7,Hirose RJ45, 75,0m
Kabel Instrumental
Kl.6,3m-Kl.6,3m Mono 10m(Instrumental)
Kl.6,3m-Kl.6,3m Mono 6m (Instrumental)
Kondensator Minaturmikrofon DPA 4099 CORE
Kabel Set
Kabelset Strom/ Light/ Video
Verkabelung Strom/ Licht/ Sound
Verkabelung Ton n.B.
Kabel Starkstrom
CEE 5P 125A 10 Stromkabel 10m
CEE 5P 16A Stromkabel 25m
CEE 5P 16A 10 Stromkabel 10m
CEE 5P 32A 25 Stromkabel 25m
Extension Cable, 3 x 63 A/380 V 5 x 10 mm² 10m
Extension Cable, 3 x 63 A/380 V 5 x 10 mm² 25m
Kabeltrommel 25m 400 Volt H05RR-F 5x2,5 16A
Keys
Clavia NORD STAGE 3 76
Clavia Nord Stage 3 HA88
Extra Sustain Pedal
Korg triton Extreem
Roland EV-5 Expression Pedal
ROLAND Rd-800 Stage Klavier inkl. Case
yamaha motif xf7
Yamaha Motiv XF6
Yamaha Motive XS7
Laser Lichttechnik
Laserworld DS-1000 RGB MK2 Laser
Laserworld DS-2000 RGB MK2 Laser
Lautsprecher - aktiv
Multifunktionslautsprecher Akkubetrieb
DB Technologies DVA K5
DB Technologies DVA KS 20 aktiv
DB Technologies DVA KS10
dB Technologies es1203
DB Technologies SUB615
DB Technologies Vio 10 Aktiv LS
DB technologies Vio S118
EAW 118RS
EAW RS 115
EAW RS123 – 2 Way Active Speaker
Montarbo B108 -8" Aktiv-Lautsprecher
Turbosound iNSPIRE iP2000
Lautsprecher - Line Array
d&b audio Q1 Lautsprecher 2weg 2x10"/1,3" 75° x 15
d&b audio Q7 Lautsprecher 2weg 2x10"/1,3" 75° x 40
d&b audio Rigging Flugrahmen für Y-Serie (Z5
d&b audio Rigging Flugrahmen Q-Serie
d&b audio Rigging Flugrahmen V-Serie
d&b audio V8 Lautsprecher 3weg 2x10
d&b audio Y8 Lautsprecher
dB Technologies DRK 10
L-Acoustics Kudo
Lautsprecher - Monitor
D&B Max
d&b M4 Buhnenmonitor 15"/1,3" Koaxial, 50°x70° Ab
dB Technologies Flexsys FM 12
db technologies LVX 12
L Acoustics 115XT High Q
L-Acoustics 12XT
Lautsprecher - passiv
d&b audio Q-Subwoofer 1x18" (EP5)
d&b audio V-Subwoofer 1x18", 1x 12" (NLT4)
d&b C7 Basslautsprecher 18" (NL4) inkl. Transporth
d&b C7 Lautsprecher 15"/1,5" 75° x 40° (NL4) inkl.
d&b M4 Bühnenmonitor 15"/1,3"
L Acoustics SB 218
Leinwände
Leinwand / Projektionswand 9m x 6m
Leinwand 2,40x 1x80 inkl. Stativ
Lichteffekte kopfbewegt
American DJ Inno Color Beam Z19
ADJ Focus Spot 4z
ADJ Vizi BSW300 Hybrid
Chauvet Rogue R2X Beam
Clay Paky A-Leda B-EYE K10
Clay Paky A.Leda Wash K10
Clay Paky Alpha Beam 1500
Clay Paky Alpha Spot HPE 1500
Clay Paky Alpha Wash 1500
Clay Paky Profile 1500
Martin Mac Aura XB
Martin Mac Quantum Wash (5pol
Martin Mac Viper Performance (5pol DMX)
Martin RUSH MH 3 Beam™
Moving Head Beam ProLux 280
SGM G7 BeaSt StrobeBeam IP66
Showtec Phantom Matrix FX
Vizi Hex Wash7
Vizi QWash 7 7x40W OSRAM QUAD-LEDs RGBW
Lichteffekte statisch
ADJ COB Cannon Wash
ADJ Encore FR150Z
ADJ UB 9H
BEamZ Bac 404
Elation Sixbar 1000 RGBAW+UV (DMX3p/5p/ArtNet)
ETC S4 LED SER2 LUSTR CE
ETC S4 LED SER2 LUSTR CE ENGINE W.
ETC S4 Zoomprofilscheinwerfer "jr", 25 bis 50°,
EUROLITE LED KLS Laser Bar PRO FX-Lichtset
EUROLITE LED KLS Laser Bar PRO FX-Lichtset
EUROLITE LED Super Strobe ABL
Eurolite Spark Master Kaltes Feuerwerk
Lustr Classic 21
Lustr Classic LED Scheinwerfer
Martin Atomic 3000 Stroboskop
Profilscheinwerfer 750W, ETC Source Four
ProLux Matrix Bar 6
Showtec Stage Blinder 4 DMX
Sparcular Cold Flame Spraeyer
Lichtsteuerungen mit Last
Dimmer MA 12x 2,3 kW, Eingang 32A 3P+N+PE Stromver
Lichtsteuerungen ohne Last
Chamsys MagicQ PC Wing
EUROLITE Art-Net-DMX Node 8 MK2
HIGH END SYSTEMS Full Boar 4
Lichtstellpult MA Lighting GrandMA2 light
Notebook mit Lichtsteuerungsoftware Quickdmx
Showtec DB-1-8 DMX-Booster
Showtec Quick DMX D512
Mikrofon - Headset
Sennheiser HSP 4
Shure DH5T/O-MTQG DuraPlex Headset - beige
Shure Mx 153 Headset/ TQG, B
Mikrofon - Instrumentenabnahme
AKG 414 oder ähn.
DPA d:vote 4099 Lo
drum mikrofonie Set 9 Teilig
Mikrofon - dyn. - Shure SM57
Mikrofonierung Orchestra
Neu­mann KM184
Rode NT5
Sennheiser E 609
Sennheiser 600 Drum Set im Case
SENNHEISER E 906
Sennheiser e 914
Sennheiser e904
Shure Beta 181
Shure Beta 52A
Shure Beta 98 H/C
Shure Beta 98AMP/C
SHURE BETA52A
Shure Beta91
Shure sm 81
TELEFUNKEN M80-SH
Telefunken M82
Mikrofon drahtlos
AKG DMS 800 Funk System
Sennheiser EM2050
Sennheiser EW 300 G3, EW 835, Handsender+Bodypack
Shure - UR4D + TwoWay KIT
Shure BLX14-P31 Funk-Headset
Shure GLXD24E sm58
Shure ULXD4D Dual System mit 2 x ULXD2 B58
Mikrofon kabelgebunden
Audio-Technica AE 610
Sennheiser E835 Mikrofon dynamisch
Shure Beta 58 Mikorfon Dynamisch
Shure beta 87
Shure MXC416 Konferenzmikro/Anlage
Shure Sm58
Telefunken TF51 inkl. case
Mischpulte Ton
Allen Heath SQ 548 Digital-Mischpult
Allen & Heath Dante 128 Erweiterungskarte
Allen & Heath dLive C Class C3500 Mischpult
Allen & Heath dLive C Class CDM48 48/24 Stagebox
Allen & Heath M-DANTE-A card
Allen & Heath Qu 16 Digitalmischpult
Allen & Heath Zed 10Fx
Allen&Heath AR2412
Behringer X32 Digitalmixer
Behringer X32 Rack Digitalpult
DiGiCo A168 Digital Stage Box
DiGiCo S21 mit DMI Dante Card
ETHERNET SWITCH 8 GB
Mackie 1202-VLZ4 12-Channel Mic/Line Mixer
Midas M32 Digital Mischpult
Soundcraft Signature 10
Yamaha CL5 Digitalmischpult
Yamaha digitale Stagebox RIO 1608-D
Yamaha digitale Stagebox RIO3224-D
YAMAHA M7CL
YAMAHA QL1 Digital Mixer
Yamaha QL5 Digital
Musikinstrumente
Double Base 3/4 with adjustable stand.
Musser Xylophone Concert Frame Pro-Portable Kelon
Nebel
LF1500 Low Fog Machine
ADJ Entour Faze
ADJ Fog Fury Jett PRO
BeamZ SB1500LED Smoke & Bubble Machine RGB LEDs
Entourage Professional 1400W DMX Haze Machine
hazebase base*hazer*pro Dunsterzeuger
JEM AF-1 MkII
Nebelmaschine hazebase Vertical 1,3kW Standard
Nebelmaschine MDG Atmosphere ATMe
Showtec SF-100
Showtec SF-125 - Axialer Power-Ventilator
Showtec Windmaschine
Smoke Factory Tour Hazer Fluid 5L
Vornado 633 Bodenventilator, schwarz
Recording
Motu M6
Motu STAGE-B16
Notebook Windows betr. oder OSX
Rigging
Sling steel 1000kg 1,0mtr working
Electris Chainhoist 1000 KG Verlinde SR D8
Rednerpult für Konferenzen, Seminare und tagungen
Saveking® 4mm 0,6mtr Chainlink Max
Stahlbetongewicht fur MPT Base, ca.100kg
Yale Handkettenzug 1,0t/10m Hub, Towerlift ES
Scheinwerfer - Fluter
American DJ UV FLOOD 36
Audience Blinder,4xPAR-36,alu
EUROLITE Audience Blinder 2xPAR-36 DMX sw
EUROLITE LED THA-120PC Theater-Spot
Fluter Kobold FL250 250W, Black
LED Videoleuchte Dimmbare Flächenlicht 3200k-5600k
SGM Q2 LED-FLuter, RGBW, IP55,
Stufenlinsenscheinwerfer 1kW Arri ST1
Scheinwerfer - Verfolger
ClayPaky SHADOW QS-LT 1200w
Scheinwerfer Analog
Euro lite Par36-FL 4x650w
Scheinwerfer Led
BBP94 Battery Uplight Par 4x 10W
American DJ Dotz Par 100
American DJ Ultra HEX Bar 6
Astera LightSpot AX5 Akku-LED-Scheinwerfer
BAC302 Aluminium LED Par
BBP66 Battery Uplight Par
Clay Paky Glow UP
Encore Profile 1000 WW Stufenlinse
EUROLITE LED SLS-6 TCL Spot B-Ware
Expolite TourLED 50 XCR RGBW IP65
Led Par 16x10Watt
Led Scheinwerfer 64x3 Watt Zoom WW-CW Follow Spot
Scheinwerfer Led BBP66 Akku
ScheinwerferSpot/ Verfolger LED WW-CW
Stativ - Sonstiges
Black Woodboard/ for Laptop on Key stand
DAP Guitar Stand
Gravity GS 01 NHB
Guitarstand Autogrip
Hercules GS414B Guitar Stand
K&M 18950 Keyboardständer/Klapptisch
K&M 18952 Keyboard-Aufsatz für 18950
K&M SINGLE X-frame double-braced KeyStand Rick
Key Stand Einfach
Keyboard X-Ständer double
Keyboardstand Double
Notenpultbeleuchtung
Notenständer/ Notebookst. Massiv
Stative - Lautsprecher
Distanzrohr Kurbel Lautsprecher Stativ
Distanzstange, zur Verbindung von Satellitensystem
LS Stative Einfach K&M
LS Stative mit Bodenplatte
Stative - Licht
Gravity LS 431 B
Lichtstativ TV Manfrotto 3,50
VMB - TE-086B Kurbelstativ Max. 300kg, Höhe 650cm
Stative - Mikrofon
Gravity MS 2322 B
KM 25905 Mikrofonstativ Galge
Mikrofonständer Gravity MS 231 HB
Mikrofonstativ klein
Table- /Floor microphone stand
Stromverteilung
Elation UNI BAR - (Schuko output)
Kabelbrücke
Showgear PSA-125A4C
Showgear PSA-16A3S
Showgear PSA-32A6C
Showtec Powersplit 32
Showtec PSA-125A4C
Showtec PSA-63A4C Power Distributor
Steckdose 3 Fach Black
Steckdose 4 Fach IP65
Steckdosenleiste Schuko 5-Fach IP-20, 16A max
Stromverteiler 63A
Stromverteiler 63A > 4x 16A, RCD
Traversen
F34 150cm Traverse
F34 200cm Traverse
ALUTRUSS Bodenplatte 80x80 40 kg
Beamz, Bodenplatte 60x60cm
Bodenplatte für Prolyte H30/H40, 440x440x8mm
Bodenplatte für Prolyte H30/H40/S52, 880x880
Global Truss Boxcorner FD 34
Global Truss F34 100cm
Global Truss F34 200cm
Global Truss F34 300cm Traverse
Global Truss F34 50cm Traverse
Global Truss Trussaufnehmer doppelt drehbar Black
P30 Tower 1,0 with white lycra
P30 Tower 1,5 with white lycra
Traversenplatte 30x30
Trusszubehör Case
Videobeamer
CHRISTIE Roadie HD+20K
CHRISTIE Roadie HD+30K
DLP Projektor Panasonic PT-DZ680
Epson EB-W 41
Panasonic PT-DZ21KE
Videowände
Barco ImagePRO-II mit Dual Output
Eurolite LSD 75 Stof Vorhang
EUROLITE LSD-75 MK2
GLOSHINE LED P5 IN/Outdoor/ Tanzboden
INFILED ER5pro outdoor LED-Modul 5.9mm 1000x500mm2
INFILED Video Control System MCTRL660
Led Wand 3 x 2 m 4,3 P inkl. Videoprozessor
Led Wand 3,9 P 0,5m2
Led Wand 4,3 P 0,5m2
Led Wand 6 x 4m
Notebook lenovo ThinkPad Edge E540
V:LED VSF6
Videowand/ Led Wand 3,9 P 4,5 x 2,5
Zubehör Lichttechnik
Touring Case 4x Focus 4Z/5Z/Beam
Touring Case 4xVizi QWash / HexWash
Zubehör Tontechnik
ART DPDB dual passive direct DI BOX
Radial StageBug SB-1 Acoustic aktive DI Box
Batterie Satz 8 St.
Di BOX Klark Teknik DI 22P Passiv
ELixir 45-135
Kabelbrücke 1m 2 Fach
Klark Teknik DN 100 Active DI
Pultleuchte
Radial Engineering Pro DI
Radial SB 2 Passive
Zubehör Videotechnik
Audipack Separable Flatpanel Monitor Stand
DVI-Glasfaser Übertrager SC/SC,
Glasfaser Adapterleitung SC/LC, Duplex, 5m
Glasfaserleitung SC>LC, Duplex, 100m auf Trommel
Infiled 5.9 Foot Beam 1,0m
Infiled Foot fur 2 Module ERpro 5.9
Infiled Foot fur 3 Module ERpro 5.9
Infiled Stacker Hohe 1m Infiled Clamp lock single
Notebook mit Windows 10 500GB / 8Gb
OPTIK PTD7 LE30 2,6-5,1
OPTIK PTD7 LE90 0,39 INKL. RAHMEN
PT-D TRUSSHALTER 150
Traversenhalter fur Projektoren bis 60kg